Cruise Alaska & The Inside Passage

The inside passage to Alaska is one of the most beautiful and dreamt-of cruising grounds in the world and exploring these waters is a long-held goal of boaters around the world. This year, make that dream a reality. These unique one-way opportunities allow you to travel further and explore more, cruising the entire inside passage, all the way to Juneau (and Glacier Bay) in the space of 6 weeks, simply because you don't ever have to turn around and head back to your starting point. And you'll still have plenty of time to marvel at calving glaciers, watch in awe as whales play off your bow, observe bear fish for salmon and forage for shellfish, or do the same yourself!
Note: If you prefer to take a little extra time to explore this incredible cruising ground we do have some flexibility on dates. Please contact us to inquire about the option of adding a 7th or 8th week to your adventure. (Skippered charters are also an option. Please call for rates.)
AVAILABLE YACHTS AND RATES
---
Seawind 1160 "MokiMak"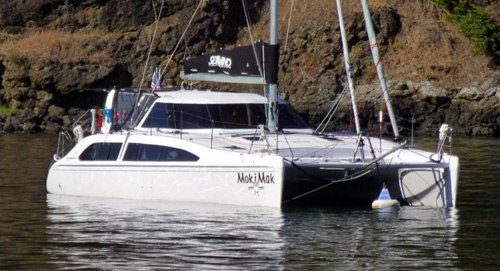 During the 2018 season "MokiMak" is planning to offer a number of flexible options for chartering one-way to or from Alaska, or for chartering within Southeast Alaska. If you are interested in one of these options please contact San Juan Yachting for a detailed rate quote. "MokiMak's" cabin heat, bimini and full enclosure make her an excellent option for early season and northern latitude cruising!
2018 Dates: TBA
Please click here for MokiMak's photos, specifications and floor plan.
---
Other Options: Also, all of our boats in the mid-30's size range and larger are eligible for a round-trip (10 week) cruise up the Inside Passage to Alaska / Glacier Bay. Contact us for a quote with additional "round trip" savings (1-800-677-7245 or charter@sanjuanyachting.com). Click to view the power fleet or the sail fleet.
---
If your Alaska cruising plans include a visit to Glacier Bay, please visit Boating in Glacier Bay for information about obtaining a private vessel entry permit.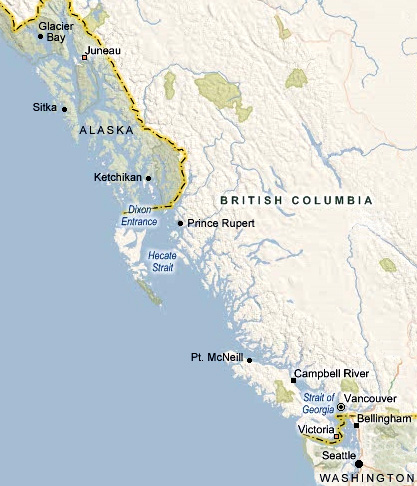 Discover a new village or solitary bay each evening as you take this incredible opportunity to cruise to magnificent Glacier Bay, Sitka, Ketchikan, Petersburg, Wrangall, the Broughton Islands Group, the Discovery Islands, Desolation Sound, the Gulf Islands, and the San Juan Islands. Build memories for a lifetime as you explore quiet inlets, isolated fjords and glaciers, visit small fishing villages, and find yourself daily in awe of the scenery and wildlife around you.
Here is a list of just a few of the things that you can do as
you explore the Inside Passage and Alaska:
Drop your crab pot and catch dinner!
Hear the roar as gigantic chunks of ice calve off glaciers in Glacier Bay or Tracy Arm.
Chip a bit of ice from a berg and serve it with your scotch during happy hour.
Watch black bears or coastal brown bears (a grizzly, but bigger!) dig for clams, fish for salmon, and munch on the sedges.
Visit a remote lodge and enjoy world-class fishing for salmon, lingcod and halibut.
Watch a family of sea otters share a meal of octopus.
Hike through the temperate rain forests. You've never seen green like this!
Learn to interpret Native American totem poles.
Spy on nesting puffins or watch as they fish and feed their young.
Discover the rich Tlingit and Russian American history and culture of Sitka.
Walk the Perseverance Trail and visit the Last Chance Mining Museum in Juneau to learn about the history of the Gold Rush.
Hike a dormant volcano… Mt. Edgecumbe (near Sitka).
See who can spot the most eagles. Extra points if he's just caught a fish!
Be amazed by the spectacle of bubble-net feeding Humpback whales. You may want to hold your nose though...they have fish breath!
Explore Ketchikan's colorful Creek Street, following the footsteps of historic madams in this famous old "red light district".