Private Seamanship Certification & Vacation Cruise
The most economical instruction choice!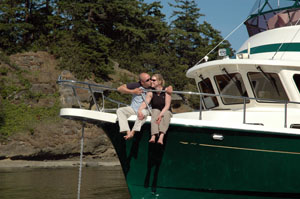 Some people are simply more comfortable with private, individualized training. So if you have a group of friends who plan to charter in the near future or you're a family eager to step up to the yachting lifestyle, private lessons might be right for you. With a private instructor you have lots of options. You can tailor your experience to learn as much (or as little) as you choose. Just pick one of our motoryachts, charter the vessel at our normal rates and take along a skipper/instructor for 3 to 6 days (based on size of boat and time to gain competency).
If your goal is to become a bareboat-charter-qualified skipper, you'll cover all the skills taught in our Navigation and Seamanship courses or you can just relax and learn the specific boat handling skills of most interest to you. You'll be welcome to participate in the operation of the vessel accordingly. This is our most flexible training/chartering option. It's a great vacation, and great learning opportunity!
Skipper/Instructor: $275/day for up to four students, plus charter fee, actual fuel used, dock fees, and food for all aboard. If your instructor qualifies you as "bareboat charter ready" prior to the end of your charter, you may arrange to ferry or fly your instructor back to Bellingham from the islands and continue on your vacation with you in command of your yacht!