2-Day Seamanship Certification
This course is sleepaboard with lunch for both days included!
(9AM Saturday, overnight to 5PM Sunday)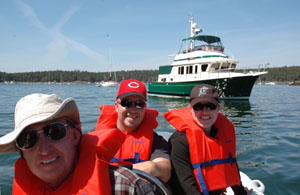 Learn the skills essential to skippering a 30' - 42' yacht aboard this 2-day weekend course. Designed for those with some boating experience, the 2-Day Seamanship Certification covers cruise and fuel planning, maneuvering in a marina, picking up a mooring ball and anchoring.
After yacht systems orientation and training, you'll spend the majority of day one learning to maneuver in close quarters and to use line handling techniques to your advantage while docking. Stay aboard your boat Saturday night, enjoying the amenities of Bellingham and the beauty of Bellingham Bay and the nearby San Juan Islands. Day two consists of more hands-on maneuvering practice, as well as navigation review, anchoring practice and tying up to a mooring ball. Now you're ready for your first bareboat charter vacation! Both twin-engine and single-engine courses offered.  Just specify your preference when registering for your course.
Prerequisite: 1-Day Navigation Course (or ASA 104, Coast Guard Auxiliary, Power Squadron, or equivalent experience verified by exam).
Tuition: $725/person, double occupancy, or $925/person for single occupancy. Lunch for both days included. Enjoy dining at a nearby restaurant Saturday night and Sunday breakfast and stay overnight on your boat in the marina.