Sample Two-Week Desolation Sound Flotilla Itinerary
Week 1
Day 1 - Bellingham to Bedwell Harbor (Poet's Cove) - Sail around the north end of the San Juan Islands archipelago to Bedwell Harbor on South Pender Island, BC. This is the Canadian Customs clearance point and the entrance to the Gulf Islands. Dock at the beautiful, new Poet's Cove Resort and Spa, taking advantage of the resorts pools, hot tubs, tennis court, pub and restaurant. Or you may tie up to a mooring buoy at nearby Beaumont Park (a short dinghy ride to the resort).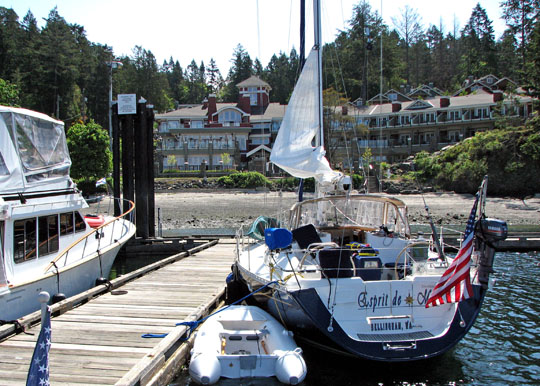 Day 2 - Bedwell Harbor to Secret Cove - Wind you way north through the forested shores of Active Pass, and on to Secret Cove on British Columbia's "Sunshine Coast". Cross the broad expanse of the Strait of Georgia and head north through Welcome Passage to well-protected Secret Cove. Anchor (stern-tie option) or dock at the Secret Cove Marina. Peruse the local arts and crafts. The marina provides a restaurant, fuel, power, showers, ice, and a small selection of groceries, beer and wine.
Day 3 - Secret Cove to Lund - You'll head due north past Powell River up Malaspina Strait to a tiny fishing village at the doorstep of Desolation Sound. Lund provides docks (including floating docks without services), a small market and beautiful pub/restaurant overlooking the Strait of Georgia with its spectacular sunsets. In the morning, it's a short stroll to a bakery with lots of delicious fresh-daily treats and specialty espresso coffees before departure.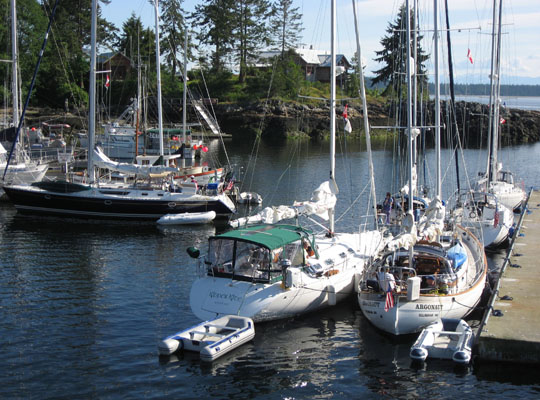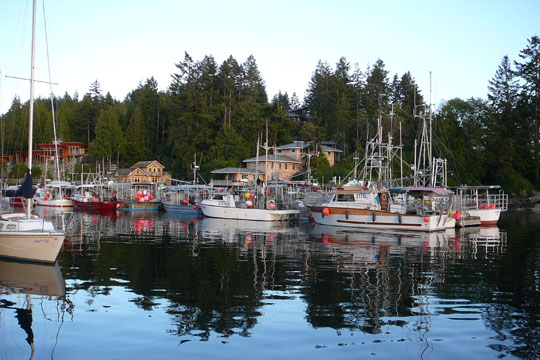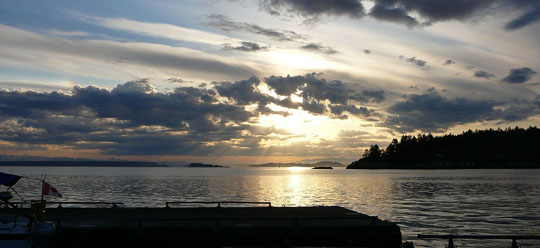 Day 4 - Lund to Grace Harbour - Then it's north through scenic Thulin Passage between the Copeland Islands and the Malaspina Peninsula. And into Desolation Sound with its glacier backdrop and pristine scenery that make this one of the most spectacular vistas in North America! Then around the peninsula to protected Grace Harbour for a stern tie and dinghy ride to its nature trails.
Day 5 - Grace Harbor to Octopus Islands - Heading west to Quadra Island, then north up Hoskyn Channel and through Surge Narrows. Anchor among an emerald cluster of islets. Idyllic coves and bays to explore with dinghy or kayak, or just sit back and relax and drink in the vistas.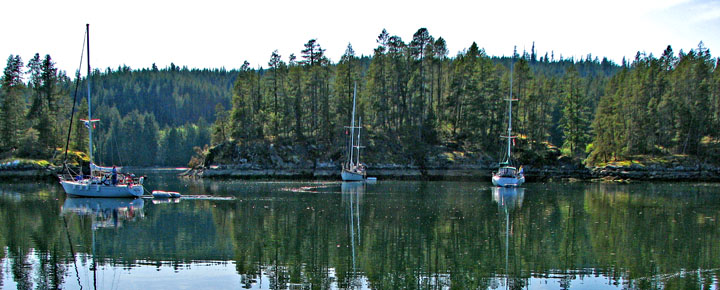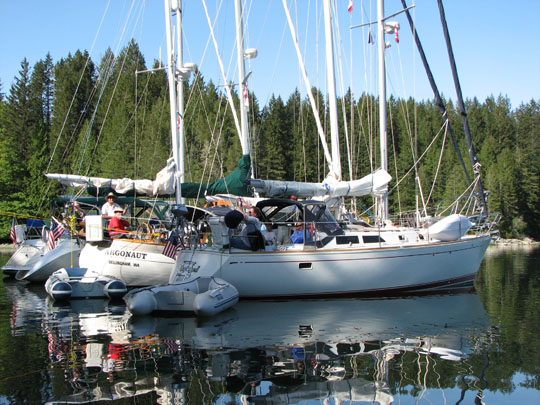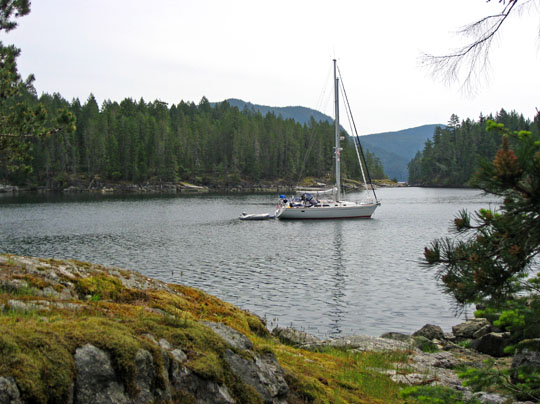 Day 6 - Octopus Islands to Toba Inlet (Wildernest) - From the Octopus Islands time the slack to breeze through Hole in the Wall and into the wide mountain-lined channels leading into Toba Inlet. As time and wind allows, make a run northeast along Toba and enjoy the many waterfalls. Overnight at the docks of the Toba Wildernest Marina.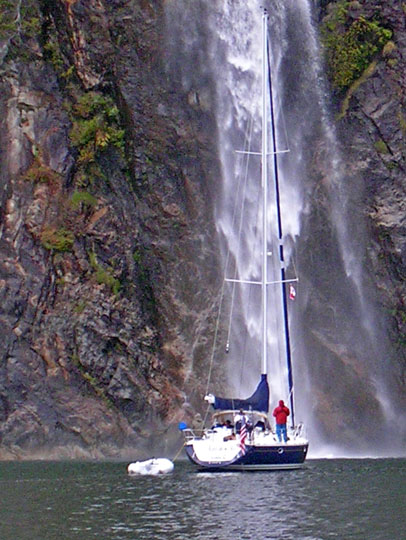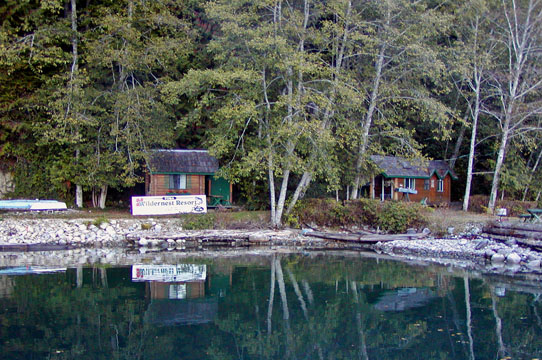 Day 7 - Toba Inlet to Prideaux Haven's Melanie Cove - Down Homfray Channel around the east shore of East Redonda Island to one of the loveliest anchorages in Desolation Sound with its myriad of interconnected tiny coves for dinghy and kayak exploration. Great hiking trails to the coves if it's time to stretch your legs. Hope you like oysters and clams!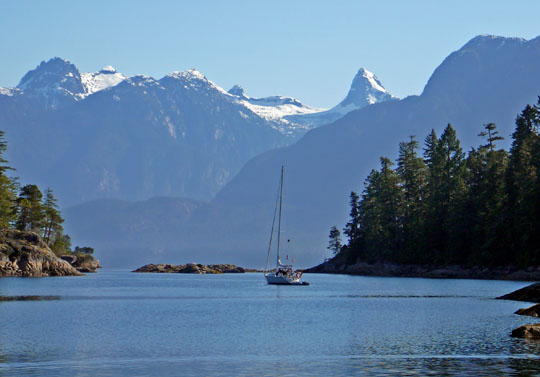 Week 2
Day 8 - Melanie Cover to Von Donop Inlet - East past Mink Island then northwest up Lewis Channel where it seems like you can touch each shore as you glide along. A long, narrow, serpentine entrance leads to a peaceful, completely protected, lake-like anchorage.
Day 9 - Von Donop Inlet to Squirrel Cove - A lovely protected anchorage with islets and it's own lagoon. A gorgeous 360-degree lagoon view. Plan on a bon-fire on one of the islets…it's a tradition! Nearby settlement offers small grocery, liquor store and chandlery as well as laundry.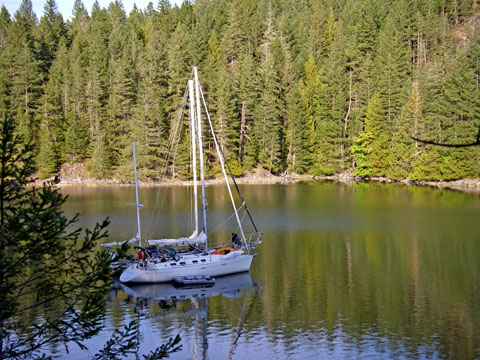 Day 10 - Squirrel Cove to Laura Cove - Detour up Lewis Channel to Teakerne Arm and it's legendary double waterfall and hike to the lake above. Then south to protected Laura Cove for oysters, clams and a good night's rest in this tranquil little bay.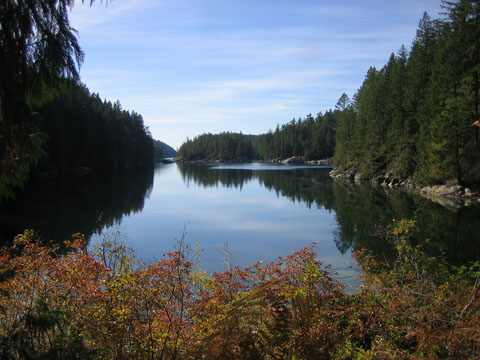 Day 11 - Laura Cove to Pender Harbor - Leaving Desolation Sound we head south past unspoiled Texada Island and the entrance to Jervis Inlet, then east into gorgeous Pender Harbor. Choose to dock at the Garden Bay Marina & Pub, or anchor in Garden or nearby Hospital Bays. Full-service grocery store and pubs/restaurants (a great one, often with live entertainment, at Garden Bay).
Day 12 - Pender Harbor to Gibson's Landing - A great full day of sailing south through Welcome Passage. Then into the open water of the Strait of Georgia into Gibson's Landing in Howe Sound (just north of Vancouver's English Bay), where we'll dock and have a last-night get together shore side.
Day 13 - Gibson's Landing to Sucia Island - After sailing past Howe Sound and the Fraser River delta, we stop to clear customs at Point Roberts. Then continue south to the "gem of the San Juan Islands". Sucia offers unspoiled natural beauty, mooring buoys, docking and many secure anchorages.
Day 14 - Sucia Island to Bellingham - Enjoy an 18 nautical mile sail back to Bellingham on this final day of the flotilla. Stop in to our office to say "hi" to our staff before starting your journey home.