Global Charters
If you are seeking a far away travel destination, paired with advancing your sailing training and skills, we have options in warmer and exotic destinations. We've sent students and charter guests to Greece, the Caribbean Islands and are currently working on plans to include Tahiti as part of our global adventures.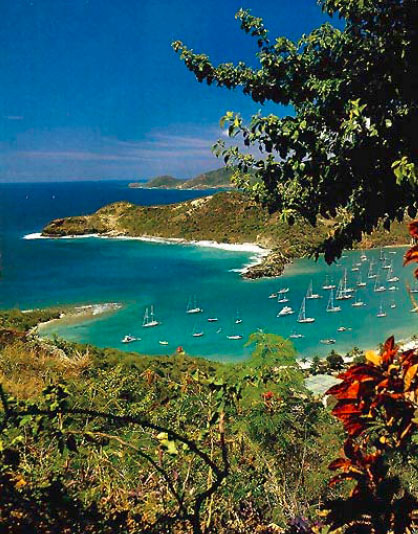 Caribbean
Do you dream of sailing the warm, crystalline waters of the Caribbean? If so, we would be happy to help you arrange a charter with our partner charter company in the Caribbean. We also offer a February guided flotilla and American Sailing Association certication sailing courses. Join us and enjoy the warm tradewinds, white coral-sand beaches and palm-lined shores of the Caribbean Islands!
Caribbean options:
Bareboat Charter (British Virgin Islands, The Grenadines or Antigua/Barbuda): We'd be happy to help you arrange your bareboat charter in the British Virgin Islands, Saint Vincent and the Grenadines, or Antigua and Barbuda. Please call us for details.
Guided Flotilla (British Virgin Islands): Already a Skipper/Bareboat Certified, but heading to the Caribbean for the first time? Join this guided flotilla, on the boat of your choosing, but with a flotilla leader to offer direction and guidance. 2016 Dates: Sunday, February 22 (noon) through Sunday, February 28 (noon).
Learn to Sail (British Virgin Islands): We send our own top instructors aboard beautiful cruising sailboats or catamarans, which depart out of Tortola in the BVI's. You can join in the training or "take a pass" and just enjoy the sailing adventures. For details click here.
Learn-n-Cruise: Beginning sailing training starting with Basic Sailing (ASA 101) through Bareboat Charter Certification (ASA 104). This is the same curriculum and training as our local Basic to Bareboat Learn-n-Cruise, but in the Caribbean islands. Four students maximum per boat.
All Women Learn-n-Cruise. The only difference with this option is that is it designed for women only. The same Basic to Bareboat Learn-n-Cruise training, but with all women aboard, instructor included! Four students maximum.
Cruising Catamaran Learn-n-Cruise: The course will give you the training to skipper a twin screw catamaran (ASA 114), with optional Coastal Navigation (ASA 105). Six students maximum.